Dog/Owner Kissing Contest. Would you do this?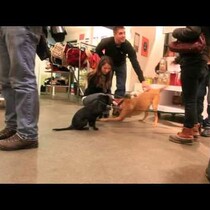 Posted February 14th, 2013 @ 10:16am
A Yorkie mix has taken the gold at a Maine dog kissing contest.
The dog licked its owners lips for ... (wait for it!).... 45.8 seconds straight!
The Maine Dog Kissing Contest is serious business with owners and dogs training throughout the year trying to get better at "longest kiss".