2014 Summer Memories: Celebrity Weddings!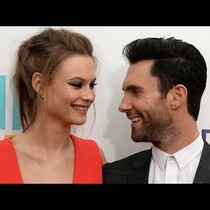 Posted August 31st, 2014 @ 11:41am
Seems Summer 2014 was the season for tying the knot and meet-cute(s)-abound in Hollywood!:
Gabrielle Union said "I Do!" with NBA star Dwayne Wade (see wedding dress sketch here)
Angelina Jolie and Brad Pitt quietly exchanged vows with their keiki as their wedding party in France (see how their children contributed to Jolie's wedding ensom!) and one paparazzo claims to have the blurriest wedding ring photo ever HERE
Actor (and my forever fave NKOTB #swoon!) Donnie Wahlberg and funny woman Jenny McCarthy got hitched this weekend in Chicago. They began dating last year after meeting on her VH1 show and announced their engagement in April!
Maroon 5 and "The Voice" judge Adam Levine is still on Cloud 9 with his new bride VS model Behati Prinsaloo
"Mad Men" co-stars Alexis Bledel and Vincent Kartheiser got married under the radar in June and earlier this month made it public
TV talker and journalist Katie Couric happily wed longtime partner John Molner in July SEE IMAGES HERE
Ashlee Simpson and actor Evan Ross walked down the aisle over the Labor Weekend
Seems Cameron Diaz and rocker BF Benjiman Madden (of Good Charlotte) are a great match with mega-rumors of their engagement popping up